Porterhouse Steak With Wild Mushrooms
Prep 15 mins
Cook 15 mins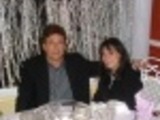 This is a hearty steakhouse-style steak that is sure to make your guests feel special - and you don't even need to go to any fuss. Or, you can treat yourself with a delicious meal. If you prefer milder white button mushrooms, you can swap them for the wild ones.
Directions
Position broiler rack so that top of meat on rack in pan will be about 5 inches from heat source; preheat broiler.
Combine 1 t. salt, pepper, garlic powder and 1/4 t. dried rosemary; sprinkle over steaks. Place on rack in broiler pan. Broil, turning once, 6-7 minutes per side for medium-rare.
Meanwhile, in nonstick skillet, melt butter over medium-high heat. Add mushrooms and remaining salt and dried rosemary; cook, stirring, until browned, 6-7 minutes. Add vinegar; cook, stirring, 1 minute. Remove from heat; stir in tomatoes.
Transfer steaks to platter. Top with mushroom mixture. Sprinkle with parsley and garnish with rosemary sprigs.
Most Helpful
This is a very tasty recipe to make when you want to endulge in a good steak. The recipe is very flavorful; yet easy to prepare. I prepared my steaks on a stovetop grilling pan; otherwise followed the recipe as listed using cremini mushrooms. Made for Fall PAC 2008

DH and I made this delicious steak recipe for dinner last night. We really enjoyed it. Loved all the ingredients and best of all, it is fast and easy to prep. I used all portabella mushrooms as that is what I had on hand. I was very excited to get a chance to use the bottle of white balsamic vinegar that I purchased over the summer and had yet to find a recipe for. The only modification we made was to grill the steaks on the BBQ--otherwise we followed all directions as posted. We'll definitely make it again. Thanks!