Pork With Sweet Onion Marmellata
JustJanS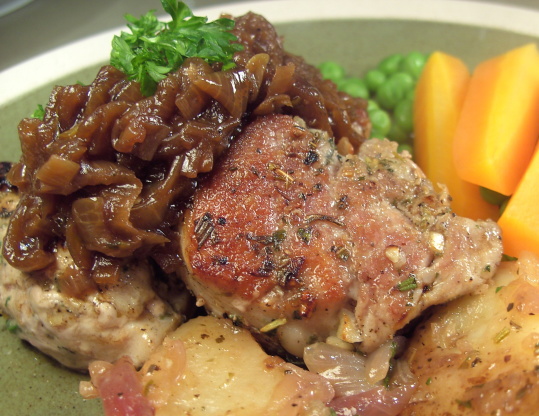 Delicious way to serve pork chops - I saw this recipe prepared by Giada DeLaurentis and had to try it! The whole family raved about it! The onions do take some time to cook down, but it is definately worth the time and patience! Please give this recipe a try - you won't be sorry! Don't let the number of steps scare you; this recipe is very very easy!

This is a really simple and delicious recipe that we LOVED thank you. I used pork fillet medallions rather than chops, and a couple of red onions as well as white in the marmellata. I had trouble getting my gas flame low enough, so had to watch the marmellata very carefully and add a tablespoon of water ever 15 minutes or so after the first 45 minutes. I made this for the two of us, but made the full recipe of marmellata as I think it will be good with meatloaf, on sandwiches or on a simple cheese and onion pizza.
For the onion marmellata, place a large, heavy pot over medium-high heat.
Add the olive oil and the onions.
Stir to combine and cook until starting to sizzle, about 2 minutes.
Add the remaining ingredients. Reduce the heat to low.
Cover the pot and cook over low heat for 2 hours, stirring every 30 minutes to scrape up any brown bits.
The onions should be a soft, jam-like consistency and a deep mahogany color.
For the pork chops, combine the rosemary, thyme, garlic, salt, and pepper in a small bowl.
Using your fingers, work all the ingredients together until well combined.
Rub the herb mixture over the pork chops. Cover with plastic wrap and reserve in the refrigerator.
About 20 minutes before the onions are finished, remove the pork chops from the refrigerator.
Place a grill pan over medium-high heat or preheat a gas or charcoal grill.
Grill the pork chops to medium, about 7 minutes a side depending on thickness.
To serve, spoon the onion marmellata over the pork chops. Sprinkle with the chopped parsley. Serve immediately.