NJN2MOM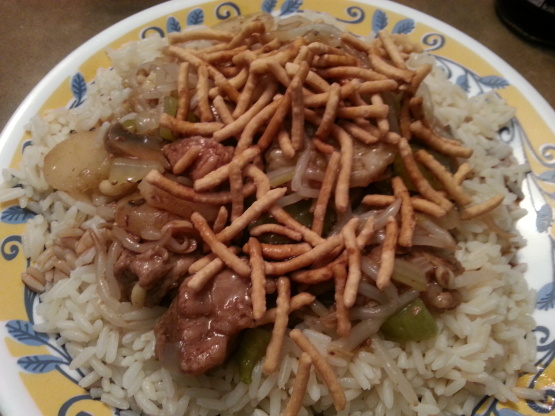 Mom made this when I was growing up and a favorite among the seven of us. Mom would make it in a deep cast iron frying pan. She would have dad get his serving out and then the rest of us could eat, otherwise dad wouldn't get any. I will suggest something that you may think ewwwww....but try it. Serve this dish with celery stuffed with peanut butter. It is EXCELLENT.

I have always made my chop suey, as my Mother did, out of the cans! Never again. I loved this recipe and will use it over and over. I added garlic, sliced broccoli stems, water chestnuts and chopped peppers. The sugar and salt were omitted and the soy sauce was increased to 2T. I like soy! I'm sure this is much healthier than using the canned veggies so thanks for a great and healthy version.
Pour shortening into a hot skillet.
Add the pork steak and seer quickly.
Add onion and fry for 5 minutes.
Add celery, salt, pepper and hot water.
Cover and cook for 5 minutes.
Add drained, LaChoy bean sprouts.
Mix thoroughly and heat to a boiling point.
Add flavoring and thickening ingredients.
Stir lightly and cook 5 minutes.
Can be served over LaChoy chow mein noodles, or over rice.