Pork Cutlets With Normandy-Style Mushroom and Applesauce
Rob-ster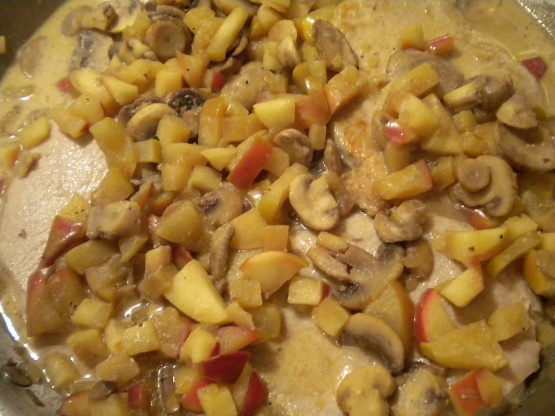 This recipe comes from the market Loblaws in Montreal.

Top Review by WiGal
Healthy for a meat recipe. Mildly noticeable apple taste, not too sweet like some, very good! Moist chops-- love the sauce. I used cider for the reduction and added a heaping quarter teaspoon of black pepper to this (DH and I love black pepper). I used fat free half and half. Your timing directions were right on the button except I take longer than 5 minutes for the prep but am slow. Served a grain pilaf with it. Made for Theirs, Yours, & Mine game. Thanks Boomie for another great recipe!
Cut pork tenderloin into 2 cm thick medallions and, using a meat tenderizer, flatten medallions into cutlets between sheets of wax paper. Sear in hot butter for 1 minute per side. Set aside and keep warm.
Add shallots and mushrooms to skillet and brown for about 3 minutes. Add diced apples and deglaze with cider. Reduce liquid by half then add cream, salt and pepper. Reheat pork cutlets in sauce preparation.
Arrange pork over 4 warm plates and drizzle with sauce, sprinkle with chopped chives. Serve with seasonal vegetables or pearl barley.