Pork and Mushroom Coriander Stir Fry
Bergy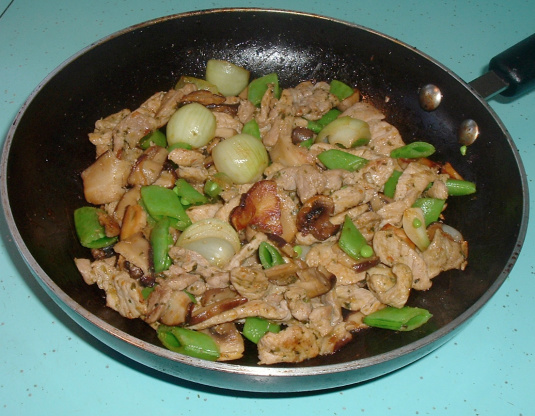 Healthy, tasty Thai style pork stir-fry. Always a hit with visitors.

Top Review by Bergy
Wonderful blend of flavors - Had a bit left over and just had it cold MMMM.For the first time I used dried Shiitake mushrooms with excellent results - 5 min in hot water and the are reconstituted and ready for use. I marked you down 1 starbecause I found your instructions unclear.I wasn't what you meant by "dressing" and deduced that it was the fish sauce, lime,& brown sugar but deduced it too late I was already frying the onion, mushrooms & then later the pork returned to the pan. No problem it still came out super. I took step 2 to mean just set it aside while you are rubbing the spices into the pork. If you see what I mean and decide to change the instruction please let me know on the message board and I will rewrite this review to a 5 star which it deserves. Thanks for an excellent recipe Sueie
Combine coriander, ginger and chilli, rub into pork.
Combine fish sauce, lime juice and brown sugar and set aside whilst preparing pork.
Add pork in batches and stir fry for 1- 2 minutes stirring continuously.
Transfer to a plate and cover loosely to keep warm.
Cook onion for 2 minutes.
Add mushrooms, pork, snow peas, coriander and dressing and cook for 2- 3 minutes.
Serve with cooked noodles or rice.