Pomegranate-Glazed Carrots
Prep 10 mins
Cook 15 mins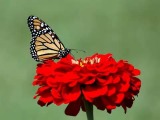 A 4-ingredient dish that sounds delicious and very easy to make.
Directions
In a skillet, melt the butter over medium heat. Add the carrots and saute until they are bright orange, 2 minutes.
Pour in the orange and pomegranate juices. Season to taste with salt and pepper. Simmer, stirring occasionally, until the carrots are tender-crisp and glazed, 12 minutes.
Reviews
Most Helpful
This was a super delicious (and easy) way to prepare carrots, and it was a big hit with everyone in my family. My carrots never really turned deep red, but it didn't detract from the flavor. It was super delicious nevertheless, and I'll definitely make this again since everyone raved about it. I'm so glad I made this dish!! Thanks for sharing your recipe, Nancy's Pantry.

I used pomegranate molasses instead of pomegranate juice and was awarded with exceptionally yummy, sticky carrots. The organic carrots we've been receiving in our CSA box served their purpose most admirably. Served with roast chicken and couscous for an easy meal yet elegant. Made for NA*ME tag/Autumn.

Wow, great flavors Nancy. We loved these quick and easy to make carrots, they were full of flavor. The glaze was perfect, covered the carrots beautifully, not to much, just the right amount. I used Cara Cara oranges and POM juice. Really loved the mellow flavor, created by the juices and the orange juice. I will be making these again. Thanks for sharing my friend.