Tisme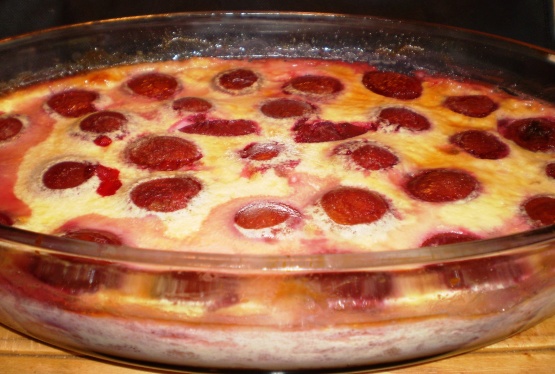 I'm not much of a dessert cook, but this is foolproof and tastes great.

Top Review by Poker
Jan ~ I am not much on Baking or doing desserts~ I ususlly let my Mom do that !! But; some times I do get in the "MOOD" & I try to find something easy !! I am so glad you gave me this one ! Its was very easy and it was very ~very good and it will be a dessert Mom won't have to make because it on my List know ! Iam gald you took your sisters advice & add it to Zaar!!
Grease a shallow 18x28cm ovenproof dish with butter.
Place the plum halves, evenly over the base of the dish.
Place eggs and sugar in a food processor and blend until pale.
Add the flour and essence and process until smooth.
Add the milk.
Process until well mixed.
Pour the batter over the plums.
Bake in a moderately hot oven (190°C) for 25 to 30 minutes or until the custard is set and golden.
Serve dusted with icing sugar, cream or ice cream.