twissis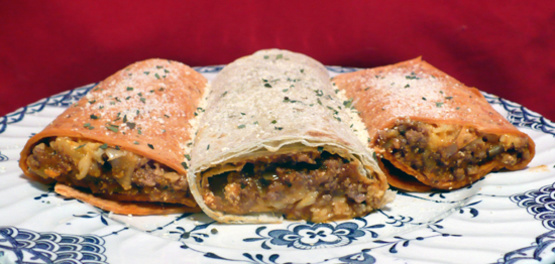 These were very good & an easy-fix. I used both sun-dried + garlic w/herbs tortillas & admit to 1 chg. My thinking was that ea wrap would have roughly 1/4 cup cooked onion + 1/4 cup sauce, but only 1 oz grd meat & less than 1 oz cheese. I knew my DH would say "Where is the beef?", so I doubled the grd meat. I know that made them a little less "light", but my grd meat was very lean, DH was happier & next time I will add bulk w/diced bell pepper + mushrooms. I used the microwave rather than oven & got the fold & roll wrong, but DH said he liked these better than spaghetti. Thx for sharing the recipe w/us.
Preheat oven to 400°F.
In a nonstick skillet sprayed with cooking spray, heat oil over medium-high heat; cook onions and garlic for 8 minutes or until onions are brown.
Stir in ground beef; cook for 5 minutes, or until beef is no longer pink, stirring to break meat up.
Stir in tomato sauce and basil; cover, and simmer for 10 minutes.
Divide beef mixture among the tortillas, spreading it in the centre; sprinkle with cheeses. Fold bottom half up to centre, fold in sides, and then roll. Place seam down on rimmed baking sheet.
Bake in centre of oven for 5 minutes or until tortillas are just warm and slightly crisp.