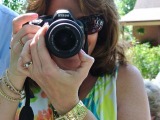 I've always enjoyed pink lemonade and would make a lot of the drink mix variety each summer. Once I became addicted to Lime and Lemonade (Lime and Lemonade) the drink mixes tasted too watered down to me. I decided to try making pink lemonade from scratch too and this is what I came up with. The water and/or sugar amount can be adjusted to taste.
Directions
In a pitcher combine the lemon juice and sugar. Stir to dissolve the sugar.
Add the water and grenadine; stir until well blended.
Chill and serve over ice.