Izy Hossack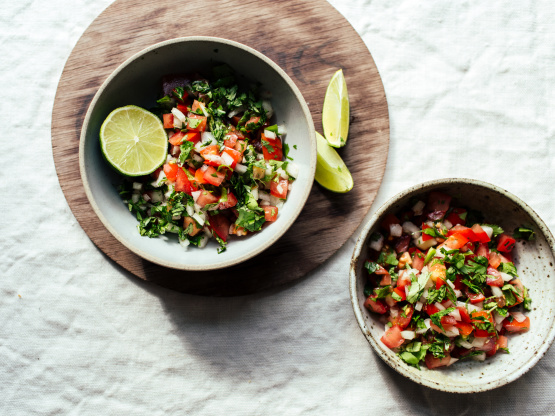 I literally live on this in the summer when tomatoes are garden-ripe! I prefer this to cooked salsa, and I really load up on the cilantro. Of course, you can adjust the heat and any other ingredient as you wish, but this is the basic recipe. Serve with your favorite tortilla chips. Hope you enjoy it as much as I do!

I had never made Pico de Gallo before but I have eaten it and really liked it. So today I decided to make some to go with the chicken fajitas I was making for dinner. I looked though a bunch of recipes and settled on this one because it looked the most simple. Boy am I glad I picked this recipe. It was super yummy and I am sure I will be using this recipe over and over again. My husband said that I picked a good recipe too. I made the recipe exactly except I used red onion instead of white onion.
4

ripe plum tomatoes, seeded and finely chopped

1

small white onion, finely chopped

118.29

ml cilantro leaf, chopped (or more to taste!)

2-3

jalapeno peppers, seeded and finely chopped

14.79

ml lime juice
Combine all ingredients; cover and refrigerate for at least an hour.
This tastes best the same day that it's made, but is okay the next day.