Marlene.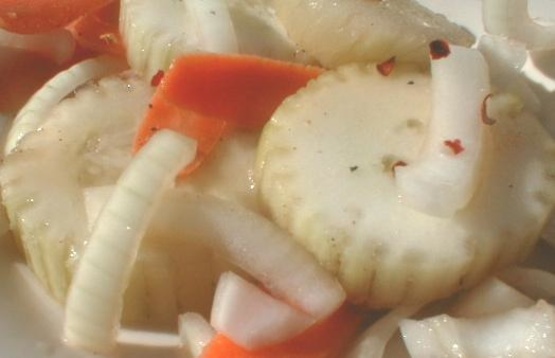 My two sons and I love these. If they had their way I would have to make 'em in a washtub! I experimented, once and added bell pepper squares. Now, they want carrot slices, tomatoes. You can use virtually any veggie. If cucumbers give you indigestion, try scoring them lengthwise with the tines of a fork. Just deep enough to see the marks. Just below the skin, in the meat, lies a layer of "heartburn". An elderly British friend of my Dad taught me this recipe and that tip. That man could COOK.

One DD loved these, but the rest of us found them just a bit too tart. I had made a large batch, so I stirred in a little extra water and some sugar (couple TB, I think) and let it sit overnight. The next night, we ALL loved them. Especially the onions, they were just great in this.
Pour vinegar and water in large left-over bowl, add spices and mix well.
Add vegetables to bowl.
More water and vinegar may be added, maintaining a 2 vinegar to 1 water ratio, to cover vegetables.
May be adjusted to your own pucker power.
We like ours tart.
Cover and chill at least 4 hours before serving.
Avoid metal bowls.