Pickled Beets (For Canning)
keysa71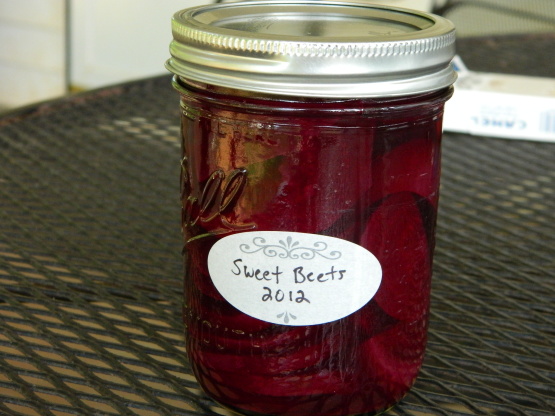 A wonderful combination of sweet and sour, you won't be sorry if you try this recipe! This recipe can also be made using about 15-18 larger beets.

Top Review by pjzahn
WOW!!!!! I LOVED these beets. Back in the dark ages when I was young I canned but got away from it. This year I planted a garden with lots of beets and had to can. Couldn't find my receipt so found this one. WOW. Found my receipt and made the second bach using the plain jane brine. Ended up draining juice and redoing the beats with this brine. Thank You
In a large pot cook the unpeeled beets until fork-tender (do not overcook) cool and then remove the skins.
Slice into about 1/4-inch thick or cut into cubes.
Pack snuggly into the canning jars (be careful not to bruise).
In a large saucepan combine the sugar, water, vinegar, ground cloves, allspice, cinnamon and whole cloves; bring to a boil and simmer for about 10 minutes (no sugar granules should remain).
Quickly pour over the beets in the jars, leaving 3/4-inch headspace (the liquid should go no further than the shoulder of the jar!).
Process in a boiling water bath for 12 minutes.
Cool on a rack.