Parsley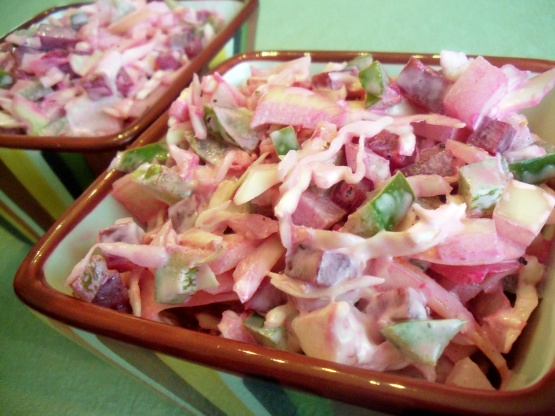 A tangy simple pink coleslaw, with a lovely different flavour from chopped pickled beets.

I thought that I had written a review for this. I'm so sorry, Derf. It was wonderful. I love pickled beets and never thought to put some in cole slaw. When I did the flavors just took off and I loved it. My husband said that it was pretty good. That is super for him as he likes cole slaw all alone and pickled beets all alone. But I loved it. Thanks so much for posting this.
1

cup green cabbage, chopped

1

cup sweet onion, chopped, walla walla is best
1⁄2 cup sweet red pepper, diced small
1⁄2 cup pickled beet, chopped small

1

tablespoon pickle beet juice

3

tablespoons no fat mayonnaise
salt & fresh ground pepper
Place the first 4 ingredients in a bowl and mix well.
In a small bowl whisk together pickle beet juice, mayonnaise, salt and pepper; pour over veggies and mix well.
Refrigerate at least half an hour before serving.