Philadelphia 3-Step Pumpkin Cheesecake
Lvs2Cook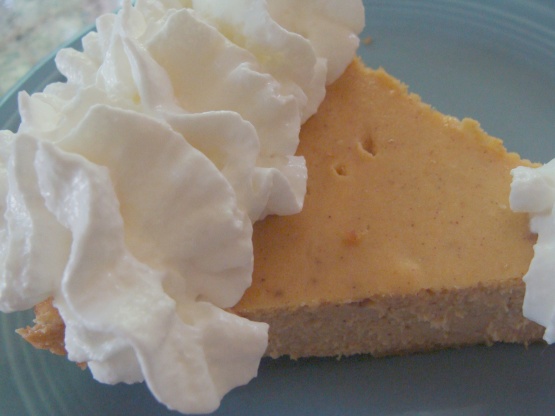 This is "cheesecake for dummies"! I found this recipe on kraftfoods.com and it is the easiest way to making a cheesecake other than buying it. People who don't like pumpkin pie will love this! Pumpkin Pie Spice can be used in place of the cinnamon, cloves and nutmeg. Cooking time includes refrigeration time!

I can vouch for this one. This recipe makes a simple but very good pumpkin cheesecake that will get you lots of compliments at parties. I started making this from the recipe inside the Philly box in the 1990s, and it was my go-to recipe for many years. It's not too sweet, has a nice texture, smells wonderful, is predictable, and, best of all, it's easy. We never wanted pumpkin pie at Thanksgiving after tasting this. If you're new to baking cheesecakes, this is the place to start. When you're ready to take on something more sophisticated, try the Cook's Illustrated Spiced Pumpkin Cheesecake. It's divine.
Preheat over to 350 degrees.
Beat cream cheese, pumpkin, sugar, vanilla and spices in a large bowl with electric mixer on medium speed until well blended.
Add eggs; beat just until blended.
Pour into crust.
Bake 40 minutes or until center is almost set.
Cool and refrigerate 3 hours or overnight.
Top with whipped topping just before serving. Store leftovers in refrigerator.