Pamela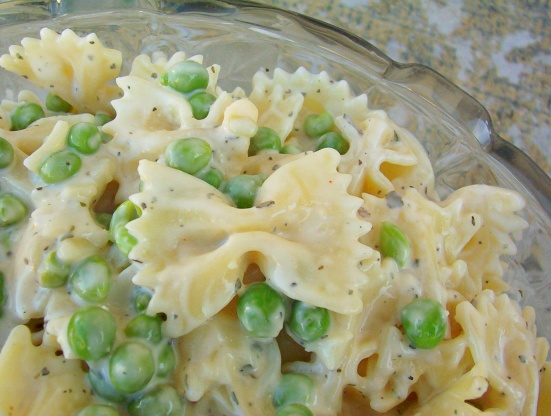 This is our new favorite mayo-based pasta salad. What could be easier than using pesto from a jar?

I was chosen to bring a salad to an office potluck and thought this might be nice for a change. Everyone raved over this! Next time I'll double it. BTW, I followed the recipe to the tee and didn't even notice the lemon juice. Respectfully, maybe the other person used too much. Couldn't find Classico pesto, so I used Flora. This really was delicious. Also, instructions were very clear for ingredient cooking times. This will be a staple next summer.
Bring large pot of water to boil, add pasta, and cook over high heat for 9 minutes. Then add frozen peas to the water in which the pasta's cooking, and cook an additional 4 minutes.
Remove from heat immediately, and rinse with plenty of cold water. Drain well. Place in large mixing bowl, and toss with remaining ingredients. Spoon into serving dish and chill.