Pescado En Salsa Verde (fish Fillets in Green Sauce)
Thorsten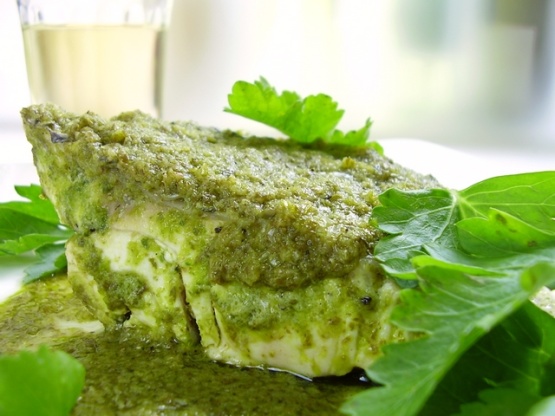 From "A Taste of Old Cuba." this recipe originally came from a 1950's Cuban TV cooking show--Cocina al Minuto--and can be made in 30 minutes and it couldn't be easier. You can use any white fleshed fish (snapper, flounder, grouper, etc.) and it's a great meal with rice, salad, and good bread to sop up the sauce. I like to add one little hot red pepper, chopped, but that's up to you--as is the amount of garlic.

I wish I could give this recipe more stars! Not only is it absolutely fabulous-tasting, its ease of preparation are going to make it a regular on our fish-rotation. My children gobbled it up, so I'm REALLY happy. Made a 1/2 batch as it was just me and the 3 little ones and my only change was to use fresh lemon juice instead of vinegar as the acid. I also did gently turn the fish over 1/2 way through cooking (used a thick perch fillet). There is rather a lot of liquid in the beginning, but after the 15 minutes cooking, I had a little bit of a tasty sauce left. A winner, Kate!
Blot the fillets dry--really dry--to avoid a watery sauce.
In a blender, combine olive oil, wine, vinegar, parsley, onion, garlic, salt and pepper and blend on high until smooth.
In a large skillet, arrange the fish snugly in a single layer and pour the sauce over the fish.
If the fish won't fit in one layer, arrange the fish in two layers, pouring half the sauce over the first layer and the rest over the top.
Bring the sauce to a boil over high heat.
Immediately reduce the heat to low, partially cover the pan and gently simmer the fish for 15 to 20 minutes or until the fish flakes when pierced with a fork.
Cooking time depends on the thickness of your fillets; if they are thin, they will be done in less time.