Perfect Pastitsio (Vegetarian)
Prep 35 mins
Cook 40 mins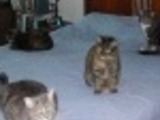 Posted for Zaar World Tour 2005. Have never eaten Pastitsio (a traditional Greek dish) before and was grateful to have found one I could eat. This looks like a great one-dish meal, and takes less time to make than you might expect. It's described as a great party dish, and leftovers can be reheated and eaten a day or two later. From Vegetarian Times Cooks Mediterranean. Have not tried this recipe yet. Update: Tried this the other night. It makes a lot of food, but leftovers are quite good! Mine didn't turn out too dry with 1 cup of tomato sauce, but do add more tomato sauce or fresh tomatoes if you wish.
Directions
Preheat oven to 350 Fahrenheit.
In large skillet, heat olive oil over medium-high heat. Add onion and cook, stirring, until golden brown, about 7 minutes.
Add beef substitute, chopping into small bits. Cook until browned, about 5 minutes.
Add tomato sauce, red wine and spice, stirring to mix.
Simmer, uncovered, until the excess moisture has evaporated, about 7 minutes. Season with salt and pepper and set aside.
Meanwhile, cook the pasta according to package directions, drain and set aside.
In large saucepan, bring milk to a boil over high heat, then reduce heat to medium.
Dissolve the cornstarch in water, then add to milk in a thin stream, whisking constantly to avoid lumps.
Cook, whisking, until mixture has returned to a boil and is thickened, 2-3 minutes. Remove pan from heat and stir in 3/4 cup of the cheese.
In separate bowl, beat eggs until light and very frothy. Add to cheese sauce in a thin stream, whisking constantly. Add salt and pepper to taste and combine with cooked pasta in a large bowl.
Lightly oil an 11x15x2 inch casserole dish. Spoon in half the pasta/cheese mixture. Top with meat substitute mixture, then with remaining pasta/cheese mixture. Sprinkle with remaining 1/4 cup cheese.
Bake until casserole is golden brown and bubbling, about 40 minutes. Let cool for a few minutes before slicing and serving.
Most Helpful
Made & reviewed for ZWT 4 ~ Kumquat's Kookin' Kaboodles! This pastitsio is seriously good. I used stock & a little lemon juice instead of wine & Quorn mince. This recipe is perfect for a vegetarian feast & will be added to my special cookbook ;) Thanks Heather for another super recipe! :)

This was a lot of work for an okay dinner - I found it a bit bland. I added a spinach, green peppers and carrots to my meat substitute mix. I also used TVP which you have to reconstitute with boiling water and you can skip the browning step just throw it in with the tomato sauce.
this was very tasty and not too heavy despite the ingredients. i used veggie crumbles which have a close resemblence to real meat. i made slight changes though, doubling the amount of tomato suace because the filling was very dry. i also made a traditional white sauce with flour instead of corn starch. thanks for posting!