Rita1652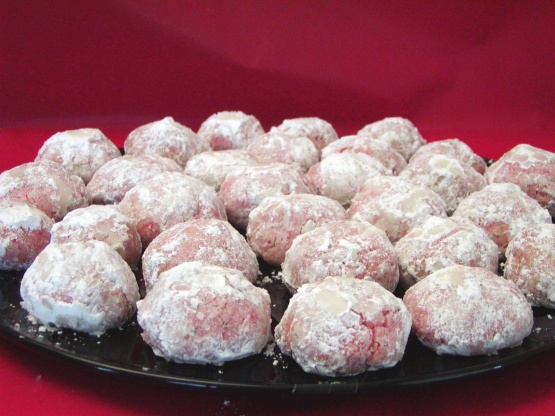 Great for Christmas Bake Exchanges! From Parents Magazine December 2003.

I made these as written except at 350 for 12 minutes. 4 candy canes looked like about the right amount. Did not get to putting in sugar when really hot - maybe 10 minutes. Probably could roll in powdered sugar again now that they are cold. I thought they would need extra peppermint extract but I didn't have any and they turned out great. Made 60 cookies. Half a cookie scoop size.
Heat oven to 400°F
In large bowl, with mixer on high, beat butter and sugar until light and fluffy, about 2 minutes.
Beat in vanilla and salt. Reduce mixer speed to low, and beat in flour (dough will be very dry). Beat in oats, crushed candy canes, and 12-15 drops of red food coloring. Shape heaping teaspoons of dough into balls, place on ungreased baking sheets 1/2 inch apart, and bake 15 to 18 minutes per batch.
Place icing sugar in large bowl. Roll hot cookies in sugar, let cool completely, and repeat.