Penne With Sausage in Pumpkin Sauce.
Rita1652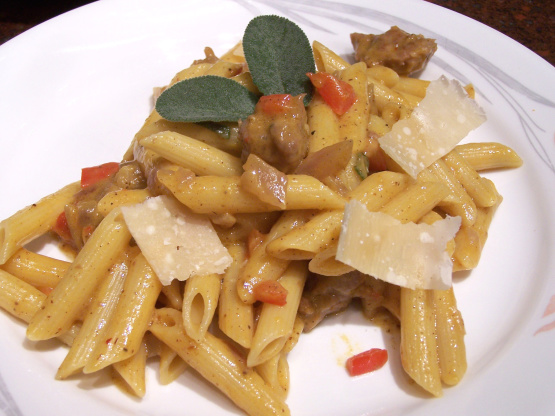 Not a bad recipe and pretty easy to make. Sausage and pumpkin does make a good combo, but I didnt like the sweet taste from the brown sugar, although it was very subtle. I think a more spicy addition would have been better, like a bit of cayenne (although I really like spicy food), and leave out the brown sugar. This is one of those recipes that I would cut out of a magazine, make once, and think it was pretty good but would probably not go back to often enough to keep.
Over medium high heat, heat oil in frying pan, saute peppers, onions, garlic till translucent.
Add brown sugar, and white wine simmer till reduced by 1/2.
Add cooked sausage, sage leaves, spices, butternut, milk, chicken broth stir and simmer 5 minutes.
Add pasta toss season with salt and pepper and red pepper flakes for a bit of heat.
Garnish with sage leave and top with grated cheese if desired.