Penne With Chicken and Roasted Asparagus
Kim S.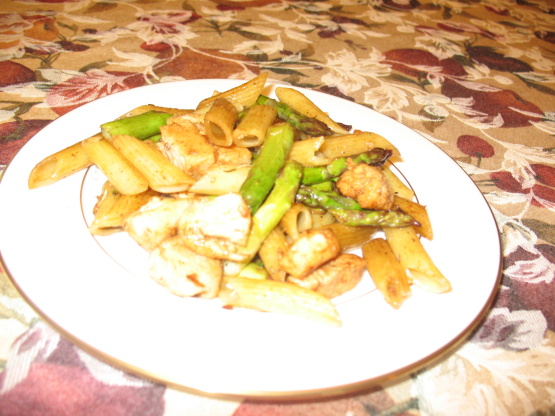 What could be more delicious than pasta , chicken and roasted asparagus, also very healthy and easy to make. The recipe comes courtesy of Mike Miller and the Home for Dinner catering service and KCRA TV.

Terrific!!! We can't wait to have this dish again. My changes were: only 1/2 lb pasta, 12oz of chicken breast, and 1/4 cup or so of butter. I wasn't sure on the balsamic vinegar with the 1/2 cup and 2T measurements, so I reduced the 1/2 cup and then put the 2T on the dish in the final mixing. The fresh rosemary cooking with the asparagus left the most awesome flavor. We will make this a lot during peak asparagus season. My 8 year olds both gave this a 5 star rating. Thanks for sharing Barb!
Put vinegar into a small saucepan and simmer until reduced to 3 tablespoons.
Remove from heat and stir in brown sugar and 1/4 teaspoon pepper; set aside.
(Mixture will be thick like syrup).
Meanwhile, snap tough ends off the asparagus and discard.
Cut spears into 1-inch pieces.
Put asparagus on baking sheet with sprigs of rosemary and toss with olive oil,1/2 teaspoon salt and 1/4 teaspoon pepper.
Roast in 400°F oven until tender, approximately 10 minutes.
Melt 1/2 tablespoon butter with 1/2 tablespoon olive oil in medium saute pan over medium-high heat.
Add chicken and saute until cooked through.
Cook pasta in a large pot of boiling water until just done.
Drain pasta and immediately toss with the butter, (cut butter into pieces first) vinegar-sugar mixture, asparagus, chicken, parmesan cheese and remaining 1 teaspoon of salt.
Serve with additional parmesan cheese.