Penne Pasta With an Herbed Cream Sauce
Parsley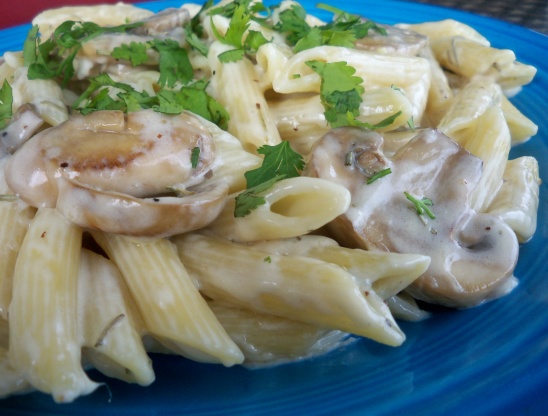 A simple and easy pasta dish. Add some mushrooms, peas, shredded carrots, and cubed (cooked) chicken for a complete meal.

Incredible, flavorful recipe! This is absolutely restaurant quality, my entire family enjoyed it. I would recommend making a double batch, my family of four with picky DS 4 and DD 7 had absolutely NO leftovers! I made this basically as directed, but here are my notes: Browned some diced chicken to toss with the pasta at the end. I would say that FRESH rosemary makes a big difference here, the flavor really comes through. I did use 1 cup heavy cream and 1/2 cup of whole milk. I cooked it more like an alfredo, adding the cheese to the cream to thoroughly melt it and reduce it before adding in the pasta and cooking down some more. Tossed in the chicken and WOW!
In a large skillet set over medium heat, melt the butter. Add the rosemary and cook, stirring, for 2-3 minutes.
Add Penne pasta, cream, salt, pepper and nutmeg. Toss to coat and let reduce 2-3 minutes, gently stirring, or until lightly thickened.
Add Parmesan to taste, tossing to combine and heat through. Transfer to serving dish and sprinkle with parsley.