JustJanS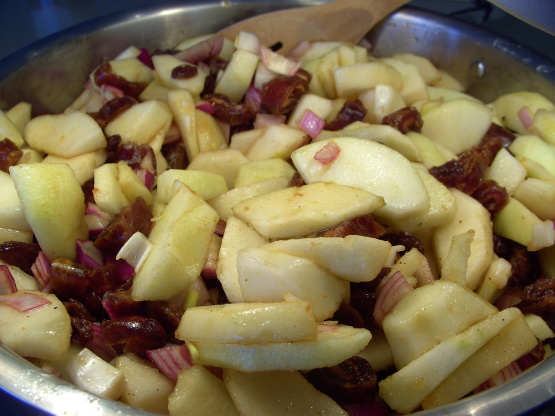 Ohh, so you want something different for your special cheese platter ......hey then h'ava go at this ...... this maybe the recipe you need! This is soooooooo good! This is a bewdiie mate! DH says "This chutney is great with Blue Cheese." I just prefer it on a cracker 's, damper or bread with cold meat! Serving size depends on what size jars you may use.

I just made and tasted this and feel it's a bit tart. I would add another half cup of sugar if I make it again. It may mellow a bit with standing a week or two and if so, I'll revise this review.My kilo of pears were bought yesterday and while most were well and truly ripe, one didn't ripen, then really didn't cook away. I'd say ripe (but not super ripe) fruit would be best for this. I got around 1.75 litres of chutney. I didn't tell Russ who is a date hater the chutney had dates in it-he remarked it had an odd floury texture, so I had to confess. Looks like it's all mine lol.
Nvoember 14th. I opened this to put it out on a cheeseboard last night for guests. One diner asked if I had a spare jar to take home so I gave her one. It has really improved on keeping, sp I'm upping my stars
Place 300ml vinegar into a pan with the remaining ingredients, season (optional) and slowly bring to a simmer over a slow to medium heat, stirring for 2-3 minutes until sugar dissolves.
Cook for 25-30 minutes until fruit is tender. Add remaining vinegar and cook for 30-40 minutes or until chutney is thickened and liquid is almost evaporated. Transfer liquid into sterilised jars. Cool jars.
The chutney can be eaten immediately or it will keep in a cool dark place for up to six months.
Place chutney into the fridge after opening and use within 2-3 months.