teresas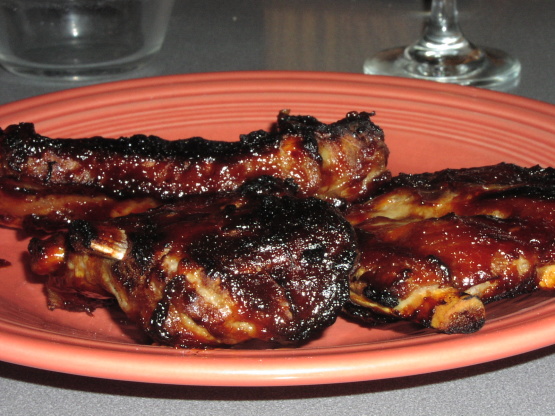 3 steps to great ribs with an Asian flair from the Best of Bridge ladies. I baked these ribs in the oven for about 30 minutes at 375F and they turned out great. Also, I have made half of the recipe for 3 of us, serving the ribs with stuffed potatoes and salad. Enjoy!

Hubby loved these...I thought they were way too salty...and I didn't add any salt...I could only eat one rib...hubby ate his plate full...I did cut the recipe in half...this is really easy to prepare but make sure you and your family love salt...which btw my hubby does...made for PRMR...=)
Remover skin from underside of ribs. Chef's Tip: place ribs meat-side down on a flat surface. Using point of knife or your finger, loosen skin and pull back along end of last rib. Grasp membrane with paper towel or pliers and peel away. Discard.
To tenderize ribs, slice each rack in half and add to large pot of boiling water. Boil gently until ribs are fork tender (about 45 minutes). Drain.
Stir hoisin, oyster, hot chili sauce and honey together. Generously coat ribs with sauce on each side. When ready to barbecue, spray grill with oil and cook over medium heat (so they don't flare and burn), basting with sauce and turning often until well glazed, about 15 minutes.