Pasta with Sausage, Tomatoes, and Cream
tunasushi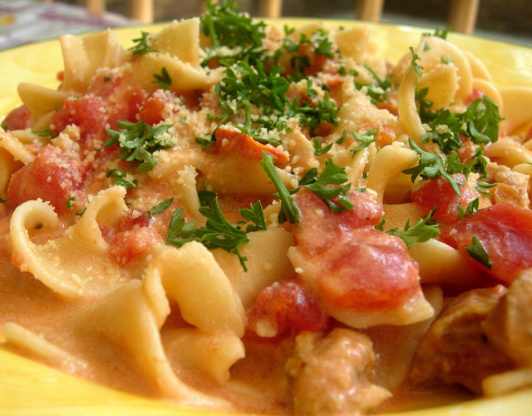 Delicious and satisfying... I don't remember where this recipe comes from, but it's a pleaser! Easily doubled. Also, works well with gf pasta and sausage

This deserves more than 5 stars! This is an incredible tasting dish. Since I have tons of tomatoes in the garden, I used fresh peeled and seeded tomatoes. I made this with whole milk, added a few frozen peas for color, and the pasta we chose was penne. I will definitely make this often. Thanks!!
Heat oil in a heavy skillet over medium heat.
Add sausage and crushed red pepper.
Cook until sausage is no longer pink, stirring frequently, about 7 minutes.
Add onion and garlic to skillet and cook until onion is tender and sausage is light brown, stirring occasionally, about 7 minutes.
Add tomatoes, cream, and salt.
Simmer until mixture thickens slightly, about 4 minutes.
(Can be prepared one day ahead. Cover and chill.).
Cook pasta in large pot of boiling water.
Drain.
Bring sauce to a simmer.
Add pasta to sauce and cook until pasta is heated through and sauce thickens, stirring occasionally, about 2 minutes.
Divide pasta between plates.
Sprinkle with parsley.
Serve, passing Parmesan separately.