Pasta with Olive Oil And Garlic
Khilon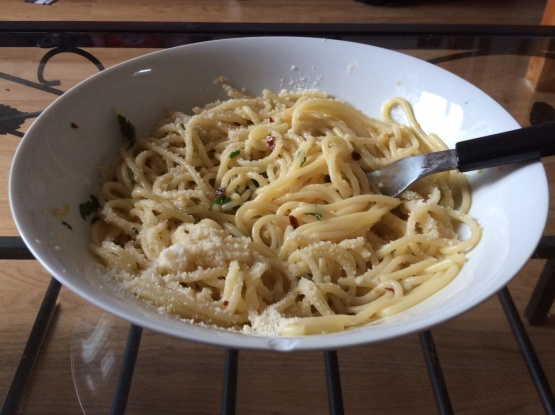 This is a fast & economical dish. It is very good. Even when my children & grandchildren were small, they all loved it!! It's an Italian dish that has been around for a very long time.

This is very good. I added some parmesan and tabasco to taste.
Bring a large pot of water to a brisk boil.
Add salt.
Add the spaghetti, following directions on the box.
Meanwhile, heat the oil in a small pan.
Slice the garlic thinly and add it to the oil.
remove the pan from the heat when the garlic turns a pale golden color (do not brown the garlic).
Add the parsley, salt and pepper.
Reserve 1/2-3/4 cup pasta water.
Drain pasta & stir in the oil.
Add the water if you think the mixture is too dry.