Pasta With Courgette and Walnut Sauce
gerry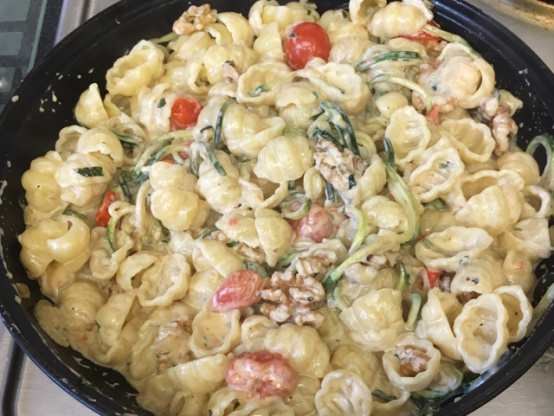 An elegant pasta dish that is quick, easy and delicious.

Top Review by Tisme
This is really lovely pasta dish.
I swapped the walnuts for macadamia's but everything else was as per the recipe and we really enjoyed this.
I also served the leftover cold next day as a pasta salad and it was just wonderful.
Thanks Kathy, I am sure I will being making this again.
Melt butter, add onion, cover and sweat for about 5 minutes.
Add courgettes, cover and stir occasionally until cooked.
Meanwhile cook the pasta as per manufacturers instructions.
To the courgette mixture add the walnuts, parsley, cream, salt and pepper to taste.
Add the pasta and parmesan cheese. Stir well.
Serve.