flower7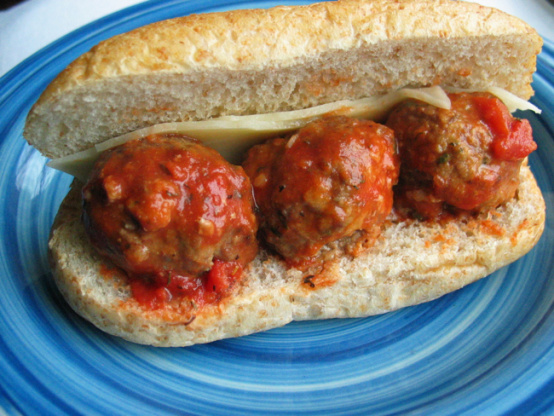 I love to cook from scratch but I also love my recipes to be quick and easy. This recipe is quick, easy and tastes great as a simple and delicious meatball.

Really good! I used whole wheat bread because it was what I had on hand, garlic powder not garlic salt, and 2% milk. I mixed together everything except the meat before adding the meat. It was a very wet mixture but held together OK. I made 16 fairly good-sized meatballs (each a little larger than a golf ball). Baked for 30 minutes on a rack on a sheet pan (so the fat would drain off) then stirred into recipe #290736. Served on wheat rolls with provolone cheese. Thanks for sharing!
Preheat oven to 325.
Process slice of bread in food processor for fresh bread crumbs.
Combine all ingredients including bread crumbs in mixing bowl.
Shape into balls and place on baking sheet.
Make for 20 - 25 minutes until done.
Add to spaghetti sauce of your choice and serve over pasta or on sandwich rolls.