Kittencal's Italian Tomato Pasta Sauce and Parmesan Meatballs
photo by popkutt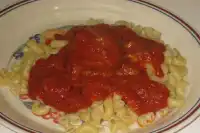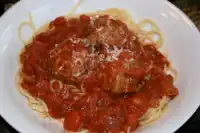 Ready In:

3hrs 30mins

Ingredients:

15
directions
Prepare the meatball recipe as directed on the recipe; transfer to a plate cover with plastic wrap and refrigerate until ready to use (the meatballs may be prepared up to 1 day in advance).
Drain the diced tomatoes over a strainer.
Coat bottom of large heavy-bottomed pot with olive oil, heat over medium heat.
Saute onion with bay leaf, oregano, basil, salt, black pepper and crushed chili peppers for about 5-7 minutes or until the onions are transparent.
Add in fresh garlic; cook stirring for 2 minutes.
Add the tomato paste;mix and stir for about 2 minutes or until well combined with the onion mixture.
Add in the wine; stir well to combine.
Add the 2 cans crushed tomatoes (can use 3 cans if you are freezing some sauce) and the drained diced tomatoes, stir and bring to a light boil; boil for 5-8 minutes then reduce heat to low.
Add in uncooked meatballs to the sauce (if you are adding the meatballs uncooked do not stir for 30 minutes or you may run the risk of them falling apart in the simmering sauce).
Simmer uncovered on low heat for about 3-5 hours (the longer you simmer uncovered the thicker and richer your sauce will be so don't be afraid to simmer even 6 hours!) adding more salt if desired.
Skim off any fat that might gather on top of sauce.
Allow to cool to room temperature then refrigerate (with the meatballs in the sauce) a minimum of 1 day or up to 4 days before using.
Use as much as desired then freeze the rest for another meal, just reheat the sauce on top of the stove or heat in microwave (this will freeze well for up to 6 months).
Note: if desired, you can bake the meatballs in the oven before adding to the sauce.
Reviews
12/25/10 Update: Made this year in the crockpot after cooking onions on the stove. Topped sauce with meatballs and cooked on low for 12 hours. Fabulous. 12/25/09 Fantastic marinara sauce. I usually make Recipe #227644 but wanted a veggie version for chick parm, so made this minus the meatball portion. Received rave reviews. I did not drain my second can of diced tomatoes, and very glad. It was a very thick sauce and I think if I had drained both cans would have been too thick, probably because of not doing the meatballs. Also omitted sugar and didn't miss it. It has made it to my best of 2009...just under the wire :)

 

Kitten - I am forever thankful for you and your recipes! My 85 year old mother had a homemade Italian spaghetti/meatball recipe which was unfortunately stored in her memory only. Mom was a TWA flight attendant back in the '40s and got this recipe from a passenger from Italy. Although mom's health and memory are still fine - recalling an exact recipe from 60+ years ago was an impossible task. I thought it was lost forever! So - I set out on a quest to attempt to find a recipe online that was as close to mom's as possible, based upon what few "clues" I recalled from watching mom make this as a teen. Those clues were: wine, sugar and bay leaves. Knowing that your recipes always rock, I started by looking through those....and BINGO! Believe it or not - this is EXACTLY the way mom's recipe tasted! Now my adult kids and their spouses have been able to taste 'real' spaghetti and have also become converts! NO other recipe will do from now on! THANK YOU, THANK YOU, THANK YOU!!!

 

I have to add my voice to the group! Kitt, this is the best sauce! I have made this a few times now, and just love it! I make this in my slow cooker so I don't have to babysit it too much - low for 4-6 hours. The last time I made this I was completely out of red wine. I used Mirin (Japanese cooking wine) and it worked perfectly for this. However a good red wine is still best for this. I will never buy store bought sauce again! If you are looking for a little lower fat option for the meat try *Recipe #166853* Delicious! Thanks Kitt!

 

This is an absolutely perfect recipe. Very spicy much to our delight (so faint of heart- be cautious of the red pepper flakes). Hubby said is the best sauce he has ever had- and that was still 3 hours after dinner. We cooked for 1-2 hours- had one meatball (that we cook at 350 for the 'time'). The let it cool place in refrigerator- had the next night- OH MY!

 
Tweaks
I was originally going to give this recipe 3 stars but now I'm giving it 5 stars because the flavour improved IMMENSELY after sitting in the fridge for 3 days! I honestly didn't like the smell of it when I was making it, though. I thought that there was too much oregano. After I added Kittencal's meatballs to the sauce, the flavor of the oregano mellowed out a bit but it wasn't anything to rave about. I let it simmer for a few hours and then left it over night to cool. Then I put it in the fridge in the morning trying to figure out what to do with it. I'm glad it sat for several days. The meatballs became more tender and the sauce was over the top delicious. Tonight I reheated the sauce and meatballs and tossed it with penne pasta. My picky 2 and 3 year olds couldn't get enough of it! I had a second serving myself. I'm freezing the rest for my husband for when he gets back from his business trip in a few days. I will make this again (and use less oregano) and plan a few days ahead before serving. The only thing I did different is that I used fresh basil instead of dried and added it to the sauce rather than frying it with the onions.

 

I've just finished making this and planning to have this for dinner tomorrow. It is now currently cooling on the counter..but I cant seem to stop myself from dipping my bread in it...I did not have anymore red wine so used beef stock instead..Will be making your meatballs later..Cant wait to have it with this yummy sauce!! Thanxs for a great recipe!!

 

Wow Kittencal, Thank you for posting this recipe. This is a wonderful sauce. I went all the way with the cup of wine and had a glass for myself. I didn't have the pork hock so I left it out but it was still excellent. I used a chipotle chile instead of the dried chiles and I cut up four cans of Italian stewed tomatoes instead of the crushed and diced tomatoes. I didn't have four hours to cook this down so I added an extra can of tomato paste. It was "really good" my dad said. This was so easy to make and so were the terrific meat balls, Recipe #69173 I added in with it.