Feej3940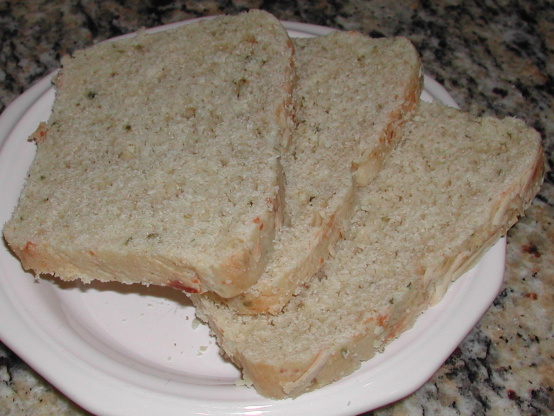 This originally came from one of my aunts years and years ago. My mom and I thought we'd lost it, but hoo-ray, we found it today!! Now we won't ever lose it again! (cook time includes rising time)

I really liked this. Next time, however, I think I will add even more herbs (perhaps a couple Tablespoons of Italian herb blend). I wasn't sure if the parmesan cheese was freshly grated, or the canned, so I used both. I used 1/2 cup freshly grated & added 1/4 cup canned. I like the amount of parmesan, so I will do that again next time. Very flaky, delicate bread. Thank you very much for sharing this lovely recipe.
Set aside 1 cup of flour. Mix remaining flour, 1/2 cup parmesan cheese, sugar, onion salt, celery salt, oregano, and yeast.
Combine water, milk, and 1/3 cup shortening in a saucepan and heat just until boiling. Stir into dry ingredients.
Add egg and mix in enough of the reserved flour to make a stiff dough.
Divide between 2 greased 1-quart (1 liter) loaf pans. Cover and let rise in warm place until almost double -- about 30 minutes.
Brush loaves with 1 tablespoons melted shortening and sprinkle with 2 tablespoons parmesan cheese.
Bake at 350F for 30-35 minutes.