COOKGIRl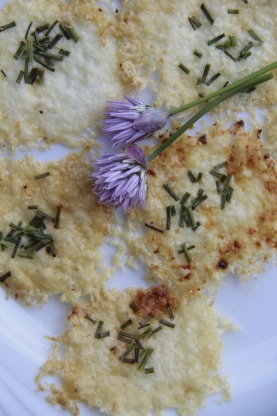 Grate some cheese and after three minutes in the oven, you have a beautiful appetizer for a glass of wine. The cheese melts into a lacy circle, and the fresh chives add color and flavor. Try other fresh herbs or freshly ground pepper for variety. I found this in the Chicago Sun-Times Food Section and was impressed with how well these turn out!
i love these! I make them with swiss sometimes also... really great for low-carb diets! instead of chives, I've added a little bbq seasoning and they taste like a bbq chip!
Preheat oven to 400 degrees.
Cover baking sheets with non-stick baking parchment and lightly brush parchment with butter.
Sprinkle cheese in mounds on baking sheets and flatten slightly with a fork to 2-inch rounds.
Bake for 2-1/2 minutes.
Sprinkle Parmesan rounds with chives and bake for 30 seconds or until golden brown.
Remove Parmesan rounds from oven.
Leave for 2 minutes to become crisp.
Using a metal palette knife, transfer to a wire rack to cool.