Calee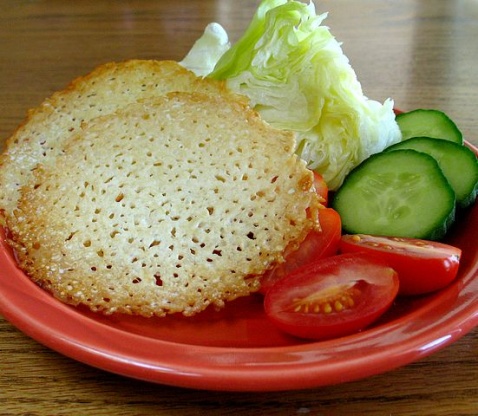 These are a carb free chip that I found while looking for recipes for a party for a friend with special diet needs. I made a batch of these to see how they tasted and my family ate them all up. So I made a second batch for the party.

Don't make my mistake and used canned parmesan. You'll end up with puffs of brown powder. (I was born blonde and though my hair has darkened, I guess I still have my blonde roots! If you're also blonde, you might not get this joke).
Preheat oven to 400 degrees.
Spray cookie sheet and with a paper towel and wipe most off, leaving only a very thin film.
Place 1-2 TBSP grated cheese on cookie sheet and pat down to a circle.
Place chips 2" apart.
Bake 4-5 minutes, watching closely to avoid burning.
Remove from oven when edges just barely start to brown.
Cool on cookie sheet 5 minutes.
These will stay fresh for days in plastic bags.