katew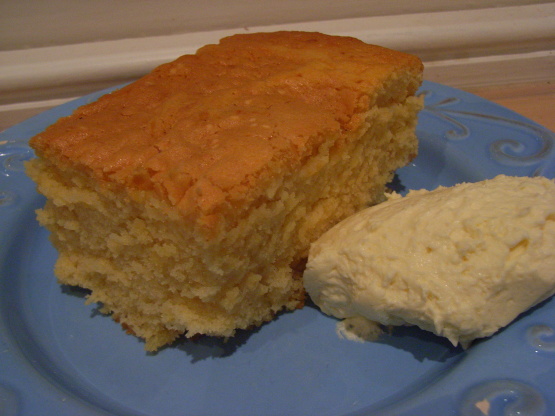 Pao De Lo (Sponge Cake) A delicious Portuguese Cake.This golden sponge cake layer appears in its paper wrapper in markets and pastry shops throughout Portugal. Posted for ZWT 5. If you don't like the zest add whatever flavor you like to these.

Top Review by katew
I was a little confused over the number of eggs but went with 4. I am unsure what the outcome was supposed to be like but my cake was soft and lemony and delicious. I had to use raw sugar as I had no white and picked a lemon off my tree for rind and juice. Made for ZWT 7.
1. Heat oven to 375 degrees F. Lightly grease 9-inch round cake pan or nonstick madeline pan. Cut a 15-by 12-inch piece of parchment paper and fit into pan, allowing edges to extend beyond rim(see Note). Grease paper on bottom and 2 inches up side of pan.
2. In medium-size bowl, with electric mixer on high speed, beat eggs with salt until light and lemon colored. Gradually beat in sugar until soft peaks form. Add yolks, 2 at a time, beating 3 minutes after each addition.
3. Sprinkle flour over egg mixture. With rubber spatula, very gently fold flour into beaten egg mixture until uniformly combined. Spread batter into prepared pan. Place another piece of parchment over cake, resting on extended edges of the parchment pan liner and being careful to avoid top of batter.
4. Bake 15 minutes or until center appears set. Remove top piece of parchment. Cool cake in pan on wire rack 15 minutes. Using edges of parchment pan liner, lift cake to serving plate and set aside at least 1 hour before serving.
Note: The cake may be baked without parchment, but the surface will be darker. To do so, grease 9-inch round baking pan and line bottom with a circle of waxed paper; grease paper and side of pan.