Pancetta, Tomato and Leek Tart
Juenessa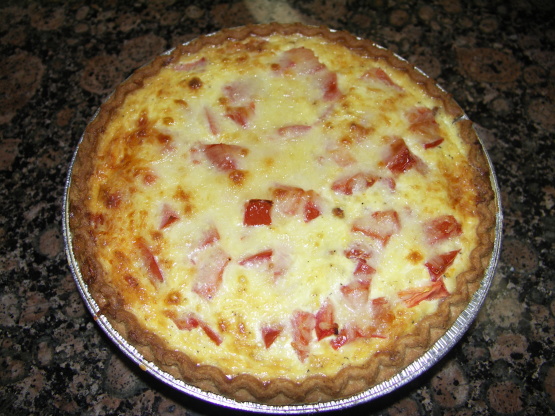 A lovely alternative to quiche

I made this using a frozen 9 inch pie crust. I used two leeks instead of one. After assembly, I kept tin foil around the edge of the crust to prevent burning. I really enjoyed this recipe. It is a keeper.
Blindbake pie crust in 9" pan, preferably one with a removable bottom, at 400 degrees for twenty minutes or until set and light golden in color. *special tip- line crust with nonstick foil and fill crust with dried beans before baking.not necessary but makes it prettier!*.
Transfer to wire rack to cool (remove foil and beans if you used them).
Reduce oven to 375.
Cook pancetta in large skillet until crisp, remove with slotted spoon to paper towels.
Discard all but 11/2 tbs drippings.
Add leek and sautee until tender (about 5 minutes).
Stir in thyme and remove from heat.
Add pancetta to leeks and combine.
Sprinkle 1 cup of cheese over bottom of pie shell.
Spread pancetta/leek mixture over cheese and top with tomato slices.
In a medium bowl, combine combine eggs, cream, half-and-half, salt and pepper.
Slowly pour egg mixture over tart filling, letting it seep into it.
Top with remaining cheese.
Bake 30 minutes or until knife comes out clean and top is lightly browned.