dkmoon82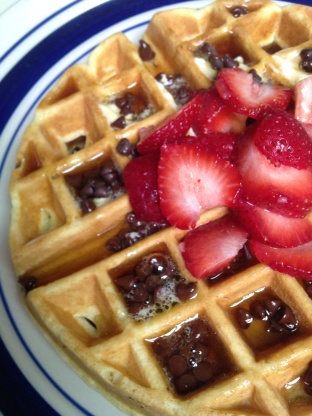 This is another recipe I found in the 1998 Taste of Home Annual Recipes. It was sent in to them by Ann Schenk of Winnett, Montana.She added two teapoons of wheat germ when the dry ingredients were mixed together, but I left it out. And they seemed to come out just fine.This recipe make enough for one, but if you make them just a bit smaller you could get enough for two. And serve eggs and sausage on the side for a much heartier breakfast or even dinner.Serve with margarine and syrup, if desired. Submitted to " ZAAR " on October 28th, 2009
These are fluffy and nice, but they taste gross. I even put sugar in it, and they taste like thick crepes. Do not recommend.
In a bowl, combine flour,baking soda, baking powder, and salt.
In another bowl, beat egg,milk and oil.
Stir in dry ingredients just until blended.
Pour batter by 1/3 cupfuls ( if making smaller, use 1/4 cupfuls ) onto a lightly greased hot griddle, or you can use a lightly greased frying pan.
Turn when bubbles form on top of pancakes and edges are slightly dry.
Cook until the other side is a golden brown.