Pan Roasted Chicken Breasts With Mushrooms and Leeks for Two
Bergy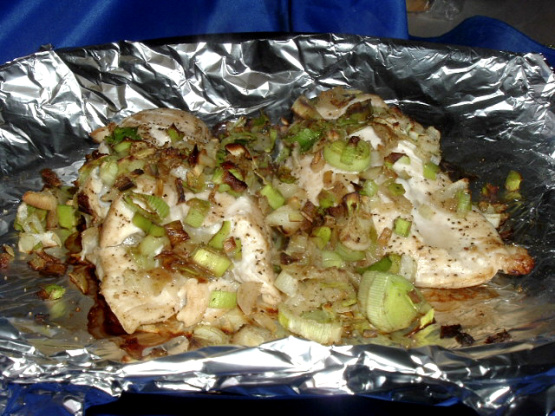 From Fitness Magazine (July 2005), credited to Chef Debra Ponzek.

Simply said... Excellent!!!! I had a little trouble with the pockets. I solved this by rolling the filling in the breast and securing with un-waxed floss to secure. The taste was worth the effort!
Preheat oven to 400°F.
Heat 1 tablespoon of oil in a nonstick skillet over medium-low heat.
Add mushrooms and leeks; stir and cook for 4 minutes or until tender.
Remove from heat; sprinkle with half the thyme, salt, and pepper.
Cut a small pocket in the top edge of the side of each chicken breast, but don't cut all the way through the breast.
Fill pocket with 2-3 tablespoons of the mushroom mixture.
Season chicken with the remaining thyme, salt, and pepper.
Heat 1 tablespoon oil in an ovenproof skillet over medium-high heat.
Brown chicken on both sides.
Transfer skillet to the oven and roast for 10 minutes or until cooked through.
Serve with the remaining mushroom-leek mixture.