Peter J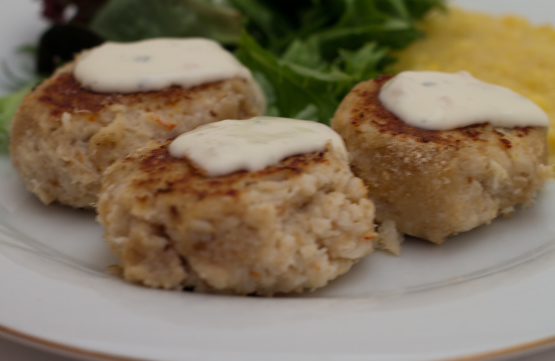 Crab cakes with rosemary mayonnaise sounds good and looks good. The recipe comes from KCRA TV and the Sunnyside restaurant in Lake Tahoe.

Wow, some of the best crab cakes I've ever had. The rosemary/garlic/lemon mayonnaise is outstanding. Thank you.
Mix wet ingredients together and add breadcrumbs.
Fold in crabmeat, being careful not to break up the larger pieces of crab.
Form into 2-ounce rounds.
Coat the outside of cakes with panko breadcrumbs.
Heat skillet and add olive oil to coat bottom of pan.
Add crab cakes and cook for 1 to 2 minutes, or until golden brown on bottom. Turn over and cook the other side.
Rosemary Mayonnaise: Combine all ingredients; set aside. Serve with crab cakes.