Overnight Orange French Toast
lazyme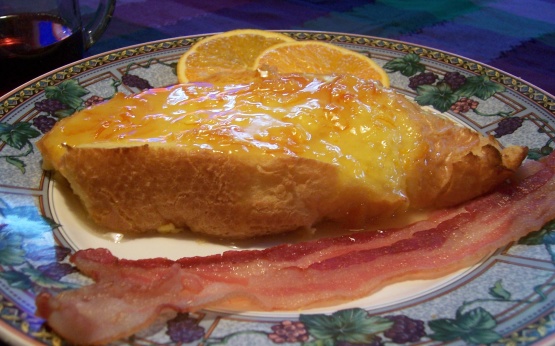 Nothing better than a delicious breakfast that you can get started the night before...
Whisk together zest, juice, sugar, vanilla, triple sec, eggs, half-and-half, and a pinch of salt.
Arrange bread slices in one layer in a 13 X 9 inch glass baking dish.
Pour mixture over bread, turning slices to coat, and chill, covered, overnight.
Preheat oven to 400F and brush a large baking pan with butter.
Using a slotted spatula arrange bread in one layer on baking pan, leaving atleast 2 inches between each slice and bake in middle of oven 5 minutes.
Rotate pan and bake 5 minutes more.
Rotate pan again and bake until bread is puffed and golden, about 5 minutes more.
Make sauce while bread is baking: Cook butter, marmalade and triple sec over low heat, stirring, until butter is melted.
Drizzle French toast with sauce and serve with syrup, if desired.