Katzen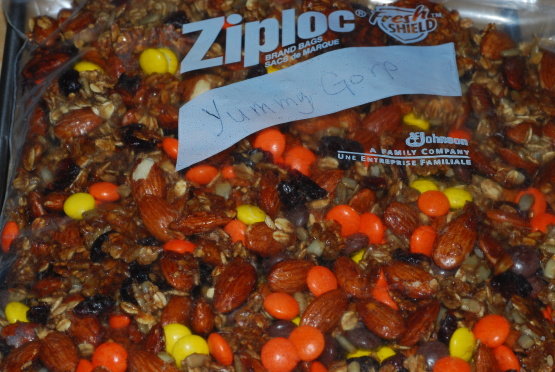 The original idea for this recipe came from Rachel Ray. LOVE LOVE this snack. It is great to take with you where ever, hikes, long trips, in your desk, or even as a snack when the kids come home from school. Substitute any dried fruit and/or change the nuts to suit your taste. You can even change it around and just make it into granola.

Top Review by Katzen
Snowpeas said it all - EASY and SCRUMPTIOUS! This is ready in no time flat, and you could easily change the nuts, dried fruit, or M&M's (I used Reese's Pieces and sunflower seeds today), to keep it interesting. PERFECT! Made for PAC Spring 2010 - You were adopted!
Preheat oven to 375 degrees F.
Line cookie sheet with parchment paper, or non stick aluminum foil.
Put maple syrup in a sauce pan, on the stove with cinnamon and vanilla over medium low heat. Warm syrup mixture for about 2-3 of minutes then remove from heat.
Combine oats, almonds, raisins, cranberries and seeds in a bowl. Mix in maple syrup, and stir until completely coated.
Spread the maple coated mixture out on prepared cookie sheet and roast 15 minutes.
Remove the mixture from oven and transfer to a bowl, toss the mix to cool it.
When mixture has cooled completely, toss with peanut candy.
Store in plastic bags, or air tight container!