Oven-Fried Buttermilk Chicken
lazyme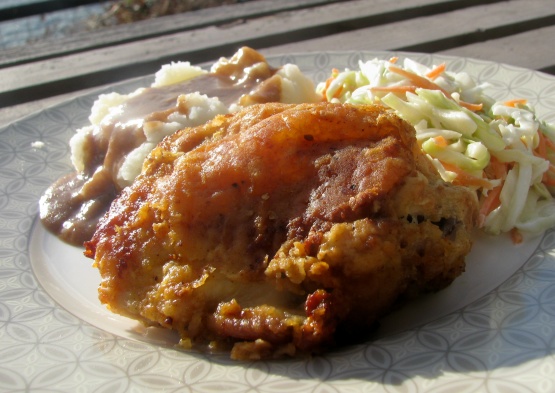 Serve with coleslaw, hot biscuits and honey, if desired.

Top Review by ImPat
Wonderful dinner. I used recipe #124413 for my buttermilk and let the chicken pieces steep for about 4 hours. I quartered a 2K (4lb+) chicken so I had 2 marylands (drumstick and thigh) and 2 breasts with wings attached. I gave them a coat in the flour mix (using flour, paprika, freshly ground salt and pepper) about an hour before cooking and then while butter was melting I gave them a second coat in the flour and continued as per recipe and the result was a crispy skinned and moist chicken. Served with cheesy scalloped potatoes and steamed vegetable. Thank you RecipeNut, made for Aussie/Kiwi Recipe Swap #26 - March 2009.
PREP: Heat oven to 425F.
CLEAN: Wash hands.
Place buttermilk in shallow dish.
On waxed paper or plate, mix flour, poultry seasoning, paprika and salt.
Dip chicken in buttermilk to coat completely.
Dredge in flour mixture to cover completely.
Place on clean sheet of waxed paper.
In foil-lined 15 x l0-inch baking pan, melt margarine in oven 3 to 5 minutes or until bubbly.
Place chicken skin side down in pan.
CLEAN: Wash hands.
Notes: CHILL: Refrigerate leftovers immediately.
Chicken may also be deep-fried.
COOK: Bake chicken at 425F for 30 minutes.
Carefully turn chicken over.
Bake 30 minutes more or until internal juices of chicken run clear.
(Or insert instant-read meat thermometer in thickest part ot chicken).
(Temperature should read 170°F for white meat, 180°F for dark meat).