Oven-Fried Almond Chicken
Derf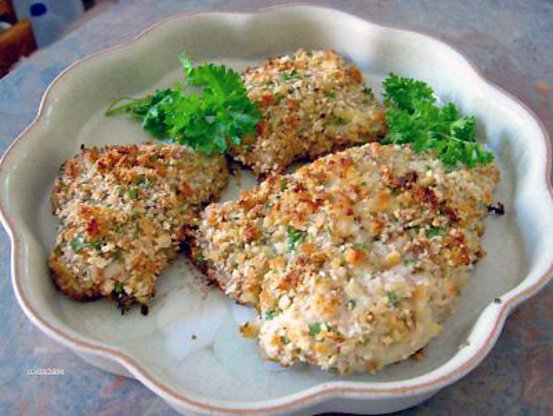 This oven-fried chicken recipe has a combination of super flavors and is so easy to do. Have dinner on the table in less than an hour.
The chicken was juicy and the flavors blended together very well. The outer edges were crisp yet moist. I baked the chicken for less time - 29 minutes, as I pounded the chicked to just less than 1/2 inch, and my oven does seem to cook recipes faster than normal. The flavors blended together nicely, and it was good to have some crunch when chewing. I served the chicken with broccoli cashew rice pilaf, and it was fantastic. This is a winner!
Preheat oven to 400°.
In flat pie plate, stir together bread crumbs, Parmesan cheese, almonds, parsley, garlic, thyme and salt and pepper.
Pour oil into another pie plate and dip chicken.
Place chicken in crumb mixture to coat, then place on cookie sheet that has been sprayed with non stick spray.
Bake for 20 minutes or until juices run clear when thickest part of chicken is pierced with tip of knife.
Do not turn chicken over.