JustJanS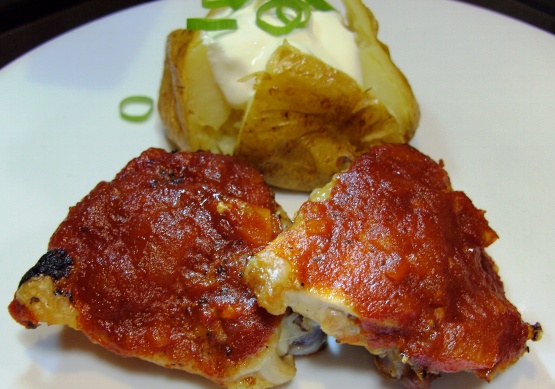 Great Tasting Baked Barbecued Chicken!

This made for a pretty tasty sauce over our chicken. I wasn't sure if chili powder meant the Mexican style (milder with added herbs and flavours) or the hot red Indian sort. I used the hot one, but reduced it to a teaspoon which was perfect for us. I only had a few pieces of chicken so have lots of sauce left over. It will be great on burgers and sausages too I reckon.
Heat 1 tablespoon oil in medium pot over medium-high heat. Add onion, and cook until softened, about 5 minutes. Add brown sugar and vinegar, stirring to blend. Add tomato puree, chili powder, mustard powder, 1 teaspoon salt, 1/4 teaspoon pepper and liquid smoke, stirring to blend. Bring mixture to a boil. Reduce heat and simmer 45 minutes until mixture thickens slightly, stirring occasionally.
Meanwhile, move rack to middle of oven. Preheat oven to 450°F Place chicken pieces on cookie sheet with sides. Brush chicken with remaining 1 tablespoon oil.
and season with remaining 1/4 teaspoon salt and 1/4 teaspoon pepper.
Roast chicken until almost cooked through, about 35 minutes, until internal temperature of thigh is 160°F Transfer rack to upper part of oven. Dollop sauce over chicken pieces and spread evenly with back of s poon.Broil 6 inches from heating element until bubbly and beginning to brown, about 10 minutes. Serve warm.