Oven Baked Western Frittata
Bayhill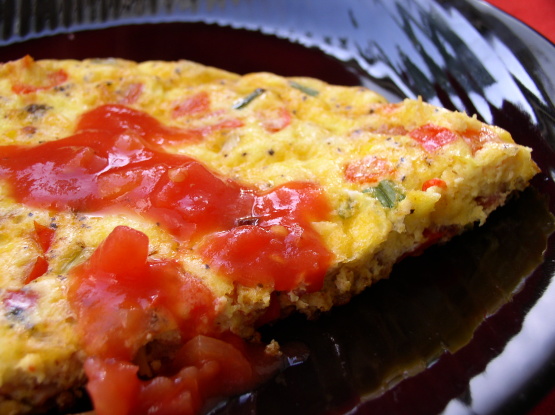 Besides fried egg sandwiches, I also enjoy a toasted Western on occasion. Sometimes I also make it as a Frittata for dinner.
Delicious! This quick and easy frittata was a huge hit at breakfast this morning. I made as written except that I added 1/8 tsp. baking powder to the egg/ half-and-half mixture before pouring over the other ingredients. I always do this as it makes for fluffier eggs. I cooked and baked this in a 12" cast iron skillet. I served this topped with salsa. Next time, I might add some fresh mushrooms, cheese, and ham. Thank you for sharing this keeper recipe.
Preheat oven to 350 degrees.
In a medium sized skillet over medium high heat, fry the bacon until desired doneness in butter.
Add the chopped vegetables and continue cooking until just softened.
In the meantime, crack the eggs in a bowl, add half/half, salt and pepper to taste and whisk until combined.
Pour mixture over the other ingredients in the skillet and cook until the bottom has just set.
Place pan (with foil wrapped around the handle if not ovenproof) in the oven and bake for approximately 10 minutes or until the top is set.
Watch closely!
Cut into four wedges and serve hot.