Sageca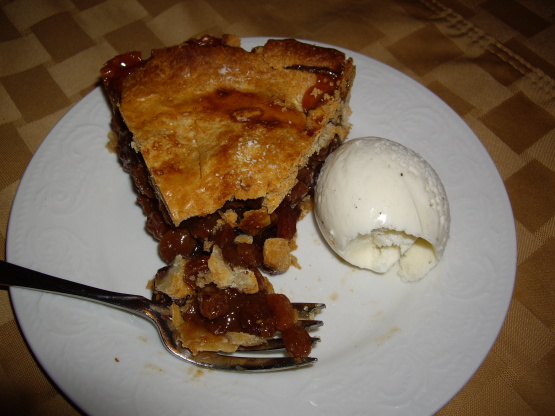 A recipe may sister gave me that dates back to 1963.

Wow! I remember this one. My best friend's Mom used to make this but she used Rum extract instead of the vanilla I think, or maybe both? Guess I better try it both ways huh? Thanks for the trip down memory lane for my taste buds.
Preheat oven to 400*.
Line 9" pie plate with pastry; set aside.
In microwave proof bowl, mix raisins, brown sugar and flour; stir in orange juice, water and salt.
Microwave 8 minutes on High, stirring every 2 minutes.
Remove from oven and add vanilla.
Let cool. Spoon cooled mixture in pie shell.
Cover with pastry.
Crimp edges to seal and slash top to let steam escape during baking.
Bake 15 minutes at 400*, reduce heat to 350* and bake another 45 minutes.
Serve warm.
Tip:.
Good served ice cream.