lazyme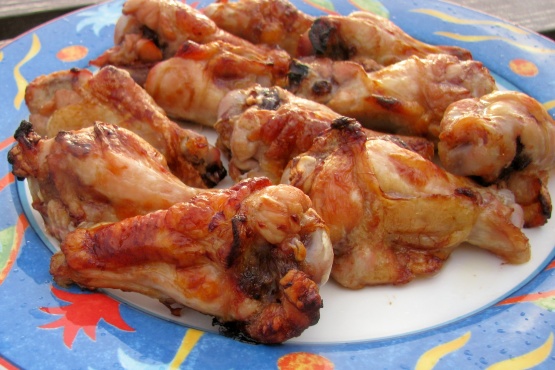 The 4 hours that it takes for the chicken to marinate is included in the prep time.

Top Review by ImPat
These were delicious, I served with steamed rice and vegetables. I did diverse from the cooking instructions, I was in hurry to marinate so dumped the 4lb chicken wings (tips an all) into the marinade (upped it 50%) and come cooking time well I just line a roasting tray with alfoil and dumped in the wings, marinade an all and bunged them into a 175C fan forced oven for an hour - turning them at 30 minute mark and yes they were crowded inthe pan. As said served with rice and steamed vegetables and spooned the sauce over (would cut back on the oil as the wings give off some fat) but we all enjoyed, thank you mommyof3 made for Bargain Basement - can't believe this has gone undiscovered for nearly 7 years. UPDATE - we had some left over and I had them cold as a snack - devine, if anything the spicy sweet taste is even better, love them.
Separate chicken wings at the joints.
Cut off wing tips.
Mix remaining ingredients and pour over chicken.
Cover and refrigerate about 4 hours.
Drain chicken, reserving the marinade.
Place chicken in a baking dish.
Brush occasionally with marinade.
Bake on one side for 30 minutes and then turn the wings and bake another 30 minutes on the other side in a 350 degree oven.