Orange Pecan Cream Cheese Pull-Apart Danish Loaf
Lvs2Cook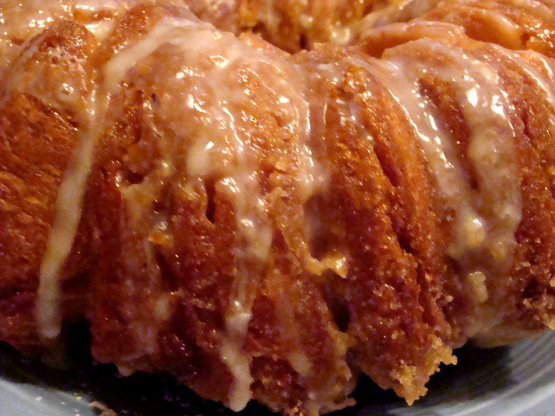 This is one of my most treasured recipes. Flaky refrig biscuits are filled with cream cheese, dredged in butter, rolled sugar, pecans, orange zest. Baked in a bundt pan, the loaf is inverted and drizzled with a glaze. Pull off a danish and slip into bliss.

We did not enjoy this at all. In fact, I had to throw most of it away because nobody liked it. It was so sweet, it made me ill.
Combine sugar, pecans, orange zest.
Separate each biscuit, (there shoud be 20 biscuts - so you will have 40 layers).
Cut cream cheese into 20 pieces.
Place one piece of cream cheese on each of 20 biscuit halves.
Top with remaining biscuits halves and pinch the edges to seal them.
Dip filled biscuits in melted butter.
Dredge in the sugar mixture. I do have to make extra mixture sometimes.
Stand each biscuit on it's edge in a lightly greased 12-cup bundt pan, spacing evenly, but together.
Drizzle with remaining butter and sugar mixture.
Bake at 350 degrees for 45 minutes, or until golden brown.
Immediately invert onto a wire rack.
Combine powdered sugar and orange juice, and drizzle over the danish.
Serve immediately.