Bergy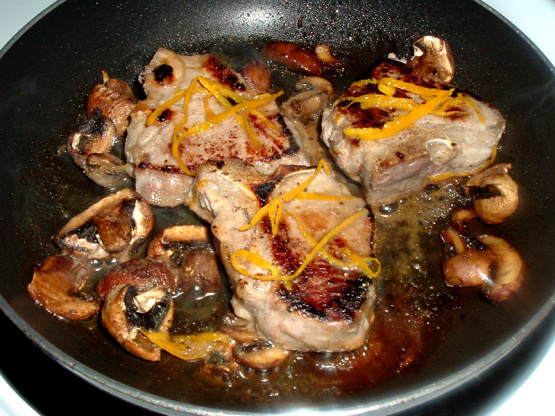 Posted in reply to a request. Prep time includes 1 hour marinating time.

Top Review by Bergy
Nice combination of orange, lamb & the mushrooms. I marinated the chops for 4 hours in the fridge. I enjoyed them but would not rate this recipe as my favorite. It seemed to need a little more zip. Perhaps adding some basil - Not sure but I wnted a taste of something added. Don't misunderstand me I enjoyed my dinner and I'll bet for most this recipe would be just right. Thanks Dee514 for posting it
In a small pan, sauté sliced mushrooms in 1 teaspoon of butter, until mushroom juices evaporate; then set aside (if using canned mushrooms, omit this step).
Trim excess fat from chops.
Combine orange peel, juice and thyme; spoon mixture over chops.
Let chops marinate for 1 hour at room temperature (or about 3 hours in refrigerator), turn chops once or twice.
Remove chops from marinade, and reserve.
Brown chops on both sides in hot shortening; season with salt and pepper.
Add reserved orange mixture and mushrooms.
Cover pan and simmer for 40 minutes.
Uncover pan and simmer about 5 minutes longer.