Oops! Italian Chicken Salad
gailanng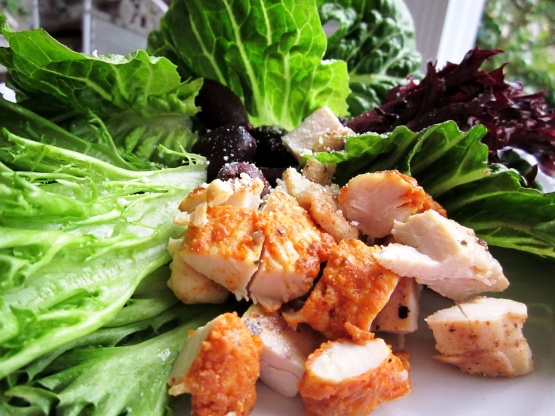 This was an invention I created after realizing that I had a prepackaged salad bag due to expire in a couple of days. The rest came together after rummaging in my pantry and fridge for a while trying to think of what else to add to the lettuce. Despite the lack of planning, the flavor was a success and something that I plan to use deliberately in the future! Feel free to use fresh lettuce if you don't like the bagged idea, it usually tastes better even if you do lose a little bit of convienience. This is a very simple salad, so you may opt to add other ingredients if you are interested. Chopped tomatoes and onions would be great!
Start with the dressing. Combine all dressing ingredients in a small mixing bowl and beat with a wire whisk until the oil and vinegar blend together. This should take only a couple of minutes. You may need to redo this depending on how long the dressing will sit before serving.
In a large bowl, mix the salad ingredients together.
Pour the dressing over the salad and toss to coat. You can chill the dressing beforehand if you like, but I find it's just as tasty at room temperature!
Serve and enjoy!