One Hour Yeast Dinner Rolls
ogre8326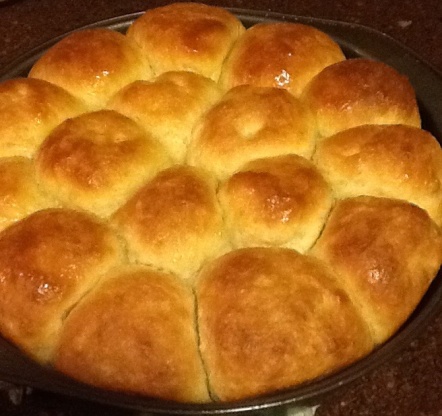 Super quick dinner rolls that need only 25 minutes rising time and so easy to put together using a food processor or mixer.

Fabulous and easy! I forgot to make some rolls for dinner earlier on in the day and so I was scrambling to find a fast roll recipe. I found this one and started to make it and then realized I was out of fast/rapid rising yeast. So, instead I used 1 Tablespoon of active dry yeast. I had to use about 1 cup of warm water instead of the 3/4 cup inorder to get the right dough consistency. They did take a little longer to rise - about 45 minutes. I wasn't sure if these would turn out, but they did and they were fabulous. These were almost better than my other "go to" roll recipe. The entire clan loved these and they ate all of them! They filled up on bread, for sure, tonight. Thanks so much for saving me and making me the bread queen tonight.
In a food processor, mix together the flour, yeast, dry milk, sugar and salt.
Add water and oil and process until a thick sticky dough forms.
Let stand for 5 minutes.
Butter an 8" round cake pan.
Turn dough out gently onto a floured board.
With a floured knife, cut the dough into quarters.
Cut each quarter into quarters and shape the dough into balls, adding flour to prevent stickiness.
Place dough pieces close together into the prepared pan.
Cover and let rise in a warm place for 25 minutes or until rolls are puffy.
Preheat oven to 400°.
Drizzle the melted butter over the rolls.
Bake for 20 minutes or until golden.