Simple Yeast Bread / Dough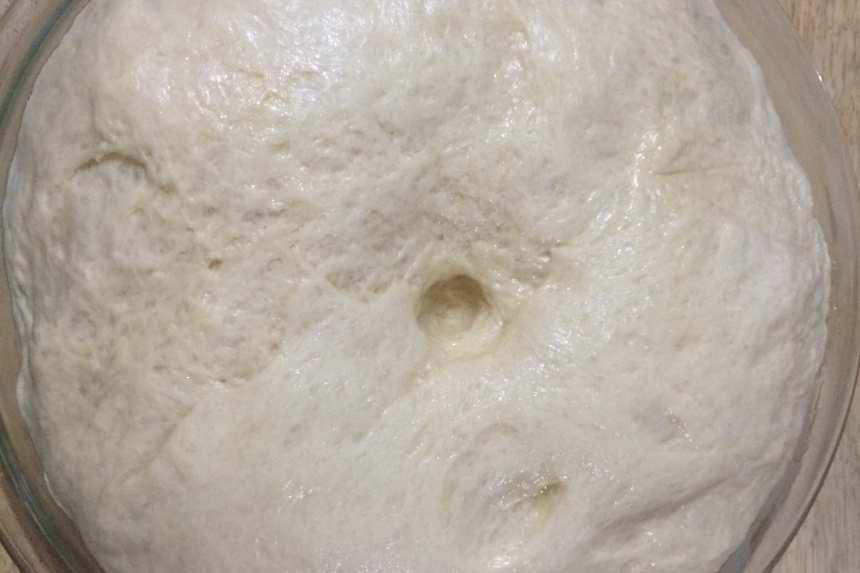 photo by Asooma

Ready In:

2hrs 15mins

Ingredients:

6
directions
Combine 1/2 cup warm water with 2 tablespoons of yeast and in a large mixing bowl and set aside for about 5 minutes.
Combine the 1 1/4 cups warm water with the butter or oil and add to the yeast mixture after it has expanded.
Combine the salt and flour and add 2 cups of flour to the yeast / water mixture and mix well.
Continue adding flour until a soft dough forms and begins to pull away from the sides of the bowl. Turn the soft dough out onto a well floured surface and knead in remaining flour, continuing to knead for about 10 minute until the dough is very soft and pliable.
Place the dough into a well-greased pan, turning once to coat and allow to rise for about 1 1/2 hours. Dough is ready when doubled in size and indentation remains when pressing a finger into the center.
Press to deflate and shape the dough as you desire. You can use it to make mini pizzas, hot dog wraps, 2 regular sized pizzas, 2 loafs of bread or cinnamon bread.
After shaping the dough, allow to rise again for 10-15 minutes before baking. Bake in a very hot oven (450-500 F) for 12-15 minutes. Check for desired golden color / doneness. Ovens vary in cooking time, so check the dough at about 10 minute and then adjust the cooking time / temperature according to your oven.
Questions & Replies

When you say to combine the salt and flour then add 2 cups of flour to the yeast mixture, is the salt going with 2 cups of flour then an additional 2 cups is going the mixture? Then the last 1/2 cup must be used when kneading? Also on the ingredients section, it says to have 1/2 cup of water, and yes that is in the first step, but why isn't the extra 1 1/4 added to the ingredients section? I wish it was a bit more explicit.

 

I made bread dough with white flour, oats and dry yeast. I proofed the yeast and let it sit over five hours after adding ingredients covered in olive oil and it got a little bit bigger. The dough is moist but kind of cracky not elasticky. I put it in the fridge now I took it out again I have proofed a bit more yeast to maybe add the foam to it. I don't know if this will work. It's still cool the dough. What should I do next. Can it be fixed??

 
Reviews
A wonderful recipe! I'm new to bread-making, so I didnt experiment with any added ingredients, but as-is these make some very nice dinner rolls! I do have two things to point out: 1. It took a while longer than the recipe said to rise, but I doubt that's your fault- it's winter right now, so it's to be expected! I turned the oven on for a few minutes, shut it off, and placed my bowl of dough in there to rise. Worked pretty well! 2. It needed much more flour than the recipe called for. It calls for around 4 cups, and I had to use at least 5. Could be temperature or humidity differences or something, but I think it's good for people to keep that in mind!