Olive Garden Five-Cheese Ziti Al Forno
Anonymous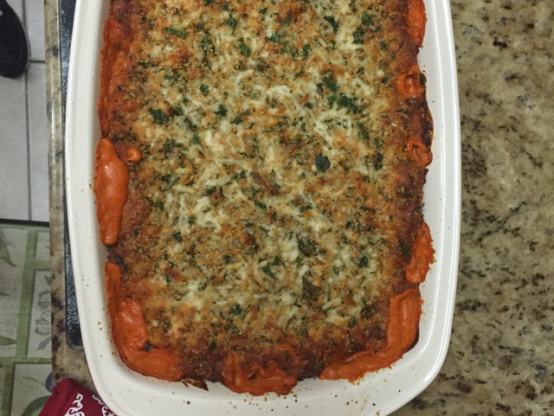 Olive Garden's Five-Cheese Ziti al Forno

I normally am not a huge fan of baked pasta dishes because they tend to be dry. My mother used to make a similar recipe, but hers included sausage and plenty of sauce. I followed this recipe as posted, other than I had 5 cups of homemade marinara to use up and included it all. I also did not add the extra cup of mozzarella before putting on the topping. This was a very saucy, wonderful dinner for a cold Ohio evening. I would definitely make this again!
PREPARE THE ZITI SAUCE:.
Combining all ingredients for the Ziti Sauce in a large bowl; cover and refrigerate until ready to use.
PREPARE THE ZITI TOPPING:.
In a medium-size bowl, whisk together the first four ingredients for the Ziti Topping.
Add the garlic, oil, and parsley and mix until thoroughly blended. Cover and refrigerate until ready to use.
WHEN READY TO PREPARE THE WHOLE DISH:.
Preheat oven to 375 degrees F. Spray a 13-by-9-inch baking dish or large casserole with non-stick spray.
Prepare the pasta according to package directions.
Pour 1/2 cup of prepared ziti sauce into the prepared dish, and spread it evenly over the bottom using a spoon.
When pasta has finished cooking, drain the water and pour the hot pasta into the bowl of remaining sauce. Mix thoroughly; pour into the baking dish.
Spread 1 cup of shredded mozzarella over the pasta and sauce mixture.
Top the mozzarella with the prepared Ziti Topping, spreading evenly.
Place pan on center oven rack and bake until top is golden brown and cheese is bubbling, about 30 to 40 minutes.
Remove and serve immediately.
From: Olive Garden Restaurant.